---
---
Kontakt
Sekretariat Andrea Lange
Telefon: +49(0)345-5522531
Telefax: +49(0)345-5527116
andrea.lange@landw.uni-hall...
Raum 3.3.31
Von-Seckendorff-Platz 3
06120 Halle (Saale)
Postanschrift:
Martin-Luther-Universität Halle-Wittenberg
Naturwissenschaftliche Fakultät III
Institut für Agrar- und Ernährungswissenschaften
Bodenkunde/Bodenschutz
Von-Seckendorff-Platz 3
06120 Halle (Saale)
---
---
Login für Redakteure
---
Bodenkunde und Bodenschutz
Herzlich willkommen auf den Seiten der Professur für Bodenkunde und Bodenschutz
Leitung: Prof. Dr. Robert Mikutta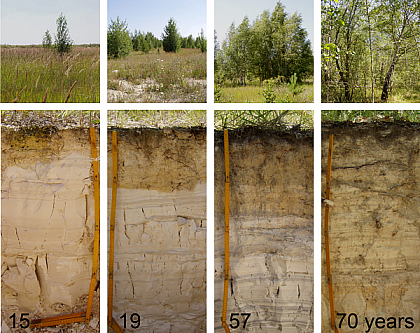 Aktuelles / News
April 2021

Excavation of phosphorus-loaded minerals after exposure for three years in forest ecosystems - in collaboration with the Soil Mineralogy Group at Leibniz University Hannover
November 2020

We are very pleased to announce that Ms. Pauline Winkler sucessfully defended her PhD thesis on redox-mediated mineral and organic matter transformations in paddy soils, achieving the highest possible grade "summa cum laude"! Congratulations, Dr. Winkler!

Sampling of soil and mineral bags within the Biodiversity Exploratories at Schorfheide, Schwäbische Alb and Hainich mountains. The project (MPI of Biogeochemistry Jena, MLU, Leibniz University Hannover, University of Hohenheim) aims at a better understanding of how biodiversity and land use intensity affect soil functioning.
March 2020

Soil sampling at the long-term experimental field site at Rotthalmünster (Bavaria, Germany). The project on soil structure turnover is a joint DFG-funded research activity of the Helmholtz Centre for Environmental Research (Halle) and the Soil Science Groups at MLU and the University of Bayreuth.
November 2019

Joint sampling of the DFG Research Unit 2179 "MAD Soil - Microaggregates: formation and turnover of the structural building blocks of soils" at Selhausen (NRW). At this particular site we are tracing the role of organic matter and carbon saturation of mineral surfaces in soil structure formation.
September 2019

Sampling of acid sulfate soils in Southern Australia. The acid sulfate soil project, led by Dr. Angelika Kölbl, aims at studying the interactions between organic matter and iron oxyhydroxysulfates / iron sulfides during soil remediation.
August 2018

Halles Bodenkundler über die Welt der Böden. Zu hören bei Radio Corax unter: https://radiocorax.de/eine-ode-an-den-boden/
Mai 2019

Burial of mineral bags in Philippine paddies in order to study phytolith aging in soils exposed to redox oscillations
March 2019

International experts met in Giessen at the DASIM Conference to discuss current developments to trace and mitigate nitrogen emissions from soils
December 2018

Studying soil formation on volcanic parent material and land use under arid climate at Lanzarote Island together with Emeriti Prof. Dr. Reinhold Jahn
August 2018
Excursion with students into the Monte Rosa Massif for studying landscape and soil development together with colleagues from the University of Torino
June 2018

Launching of our new X-ray photoelectron spectrometer for surface chemical state analysis
Mai 2018

Second field trip to Kazakhstan within the ReKKS project to study effects of land use and soil management on carbon sequestration and nurients along a precipitation gradient.
April-Mai 2018

Field campaign to study the in-situ mechanisms of phosphorus allocation of mineral-bound phosphorus sources into microorganisms and plants as part of the SPP 1685 (www.ecosystem-nutrition.uni-freiburg.de/ueberspp1685)
April 2018
Dr. K. Kaiser 'highly cited researcher 2017'
Thomson Reuter: "Highly Cited Researchers represent some of world's most influential scientific minds".
March 2018

Sampling of soils in the Eastern Usambara Mountains (Tanzania) within the DFG project "Role of clay minerals and metal oxides for organic matter stabilization in highly weathered tropical soils".
September 2017

Start of the sampling campaign of steppe soils in northern Kazakhstan within the ReKKS project "Innovation for sustainable agricultural utilization of resources and climate adaption in arid environments of Kazakhstan and Southwest Siberia".
August 2017

Master students analyzing soil chemical properties along a soil chronosequence in the forefield of the Arolla Glacier (Switzerland).
22. April 2017

Soil Scientists demonstrate against "alternative facts and fake news" and for the liberty of Sciences: Question. Test. Repeat.
April 2017

Soil protection in action: Soil scientists fighting waste at the Lieskauer ponds - a recreational area close to Halle.
16.01.2017

Emeriti Prof. Dr. Reinhold Jahn was honored by authorities of the Visayas State University (Philippines) with the Sandigan Award for his long-year contribution to academic and scientific exchange between Visayas State University and the Martin Luther University Halle-Wittenberg.
10.01.2017
The famous card game "Boden-Quartett" to learn most playfully about soils, their formation and properties, is now available at our secretary office. Warmly recommended to all students sharing interest in nature and soils (costs 7.80 Euro).
16.12.2016

Christmastime: New instruments just arrived

(Surface area analyzer, Particle size and charge analyzer, FTIR spectrometer, Ultracentrifuge)

21.11.2016

Dr. K. Kaiser 'highly cited researcher 2016'

Thomson Reuter: "Highly Cited Researchers represent some of world's most influential scientific minds".

31.10.-2.11.2016
Joint sampling campaign of the Subsoil Observatories in the Grinderwald forest (near Hannover) within the DFG research unit "SUBSOM" FOR 1806 (see www.subsom.de)
17.-19.10.2016

The Kick-off meeting of SPP1685 (Ecosystem nutrition: forest strategies for limited phosphorus resources, 2nd project phase) was held October 17-19, 2016, at the Evangelische Akademie Tutzing (Bavaria).
7.8.-20.8.2016

Große Exkursion (Deutschland-Schweiz-Italien) im Masterstudiengang Management natürlicher Ressourcen. Im Hintergrund der Lys-Gletscher im Monte-Rosa-Massiv (Italien).
---
---